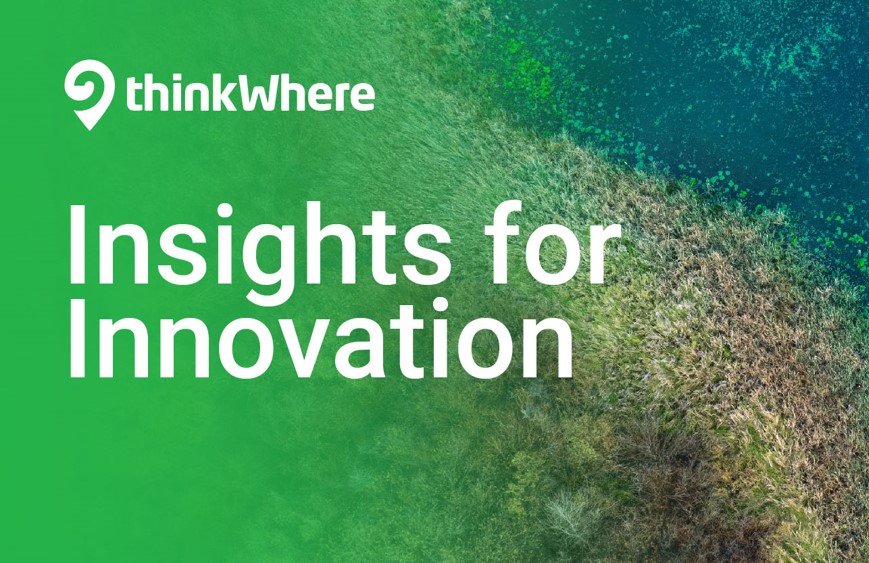 Connecting people, places and projects has never been as important as now. Throughout 2020, thinkWhere has continued to transform how people view, share and understand location intelligence using cloud technologies and open data.
Technology from thinkWhere has significantly improved internal efficiencies for our clients but also time savings for our clients' stakeholders, who can now see pertinent information sooner.  Whether it's transportation, planning, infrastructure or almost any business sector, knowing where things are, where things happen and where people, places and processes interact is crucial.
Generating this insight requires data. Managed well, data can yield immense value and has a huge cost benefit in terms of employee efficiency, productivity and the subsequent profitability of your business.
Get a better view
We held our first customer-facing webcall at the end of November to showcase the latest release of groundMapper.  With 50 attendees, it was a great opportunity to demonstrate the power of our portal by giving insight into the 300 datasets available, and ready for use, in their current workflows.  You can request a recording of the webcall here
In the Spotlight – new clients:
Buccleuch Estates, Scottish Agricultural College (SAC) and Tilhill Forestry
With around 190,000 acres of rural land to manage across Britain, groundMapper has digitally transformed how Buccleuch easily capture, maintain and communicate their land and property assets and associated information such as documents, photos, drawings and reports. This provides a single source of the truth and ensures effective data sharing.  Read their success story here
Working with SRUC's commercial division, SAC Consulting, thinkWhere implemented groundMapper to provide SAC staff with the ability to produce high quality, consistent map outputs which underpin innovative client solutions. "Our previous system lacked flexibility and had led to disparity in data capture and storage"  Read here
Tilhill Forestry, has adopted groundMapper to transform the way it manages forests, harvests timber and provides landscaping services across the UK. "The use of groundMapper will allow us to store forest data consistently, and in one place, and will provide access to that data, as well as many other sources of relevant information, at any time and from any location." said Eddie Addis, Tilhill Regional Manager.  Providing in-field mapping and analysis tools and instant access to specialist land and property datasets, read their story here
Look out for exciting news soon on our recent work with Digital Scotland.
Responding to the current environment
thinkWhere is operating a fully remote working environment, with all staff working from home, enabling us to hire talent from all over the UK.
We welcomed Alison Hopkin and Kelly Marshall to the Operations team in August to implement the technical development and future roadmap of groundMapper. They shared their experience of joining the company during a global pandemic.
Louise Barnes was appointed as Chief Commercial Officer, having previously held commercial roles in Scottish Water, and with data and analytics experts, Wood Mackenzie. Louise brings a proven track record of growth, leadership and client engagement to the thinkWhere management team. Read about Louise's appointment
We're Hiring!
With so much exciting and innovative activity happening at thinkWhere, we're expanding our team further, with a fantastic opportunity for a Senior Developer. Join us and lead the development and delivery of innovative location and data solutions. Find the job advert and job description here.  Closing date is 5pm on Monday 4th January with interviews currently scheduled for the following week.
Informed decision making via the Cloud
Our public sector customers have always found the G-Cloud framework an efficient, and cost-effective way to buy our cloud products and services.  Having been on the framework a number of years, we were delighted to be awarded a place on G-Cloud 12 – the latest iteration of the framework. Products available to buy include Location Centre, our well-established enterprise GIS, that includes ready-to-use location intelligence to support planning, development, asset management and wider service delivery.
Learn Geographic Information systems (GIS) from anywhere
thinkWhere evaluated a range of training options before COVID hit in early 2020, including a blend of online and face-to-face learning environments. Our clients told us they preferred interactive contact with our experienced trainers and didn't want a faceless e-learning experience.
However, with so much uncertainty and change, the situation and circumstances were a catalyst for doing things differently, and remote online training became our only option. Our delegates can now continue to interact with our trainers, while attending a course from their homes and offices. You can be trained by us from anywhere, online and lose no impact.  We've done the hard work, so you don't have to. Read our Blog
Find our 2021 training schedule here
Festive Opening hours
We will be open as normal throughout the festive period with the exception of
• Friday 25th December 2020 (closed)
• Monday 28th December 2020 (closed)
• Friday 1st January 2021 (closed)
Should you need to get in touch:
General enquiries: 01786 476060 or info@thinkwhere.com
Technical Support / Servicedesk: 01786 476090 or support@thinkwhere.com
Sending you our best wishes for the festive season, and wishing you a safe and happy 2021. We look forward to connecting with you, and if you're thinking of location data, thinkWhere.
From Alan Moore, CEO and the thinkWhere team
Click here to subscribe to future editions of our Newsletter