I'm Grant Mclachlan and I got to work with thinkWhere thanks to Career Ready. Career Ready is a program that helps young people at school like me get real life work experience through a four week internship.
Let's start from the beginning…
My Career Ready journey began in August of 2018. I found out about Career Ready when one of my teachers asked if any of my class were interested in some paid work in a local business environment.  I missed out on work experience at school and it would be my first time getting an income, so it sounded like a great opportunity and immediately peaked my interest!
I went through the process of filling out online forms to apply for the internship.  These asked what my interests were and what subjects I took in school. The information collected was used to help decide which company would be most suitable for my internship….thinkWhere was chosen.
Preparing for the workplace…
I attended Masterclasses which taught me a range of skills to use in the workplace.  I met my workplace mentor, Duncan McLeish during the second Masterclass.  I was very anxious about meeting Duncan for the first time. However, I was very much at ease when I met him.  He was very friendly, explained what I was going to be doing, and what to expect in the upcoming months.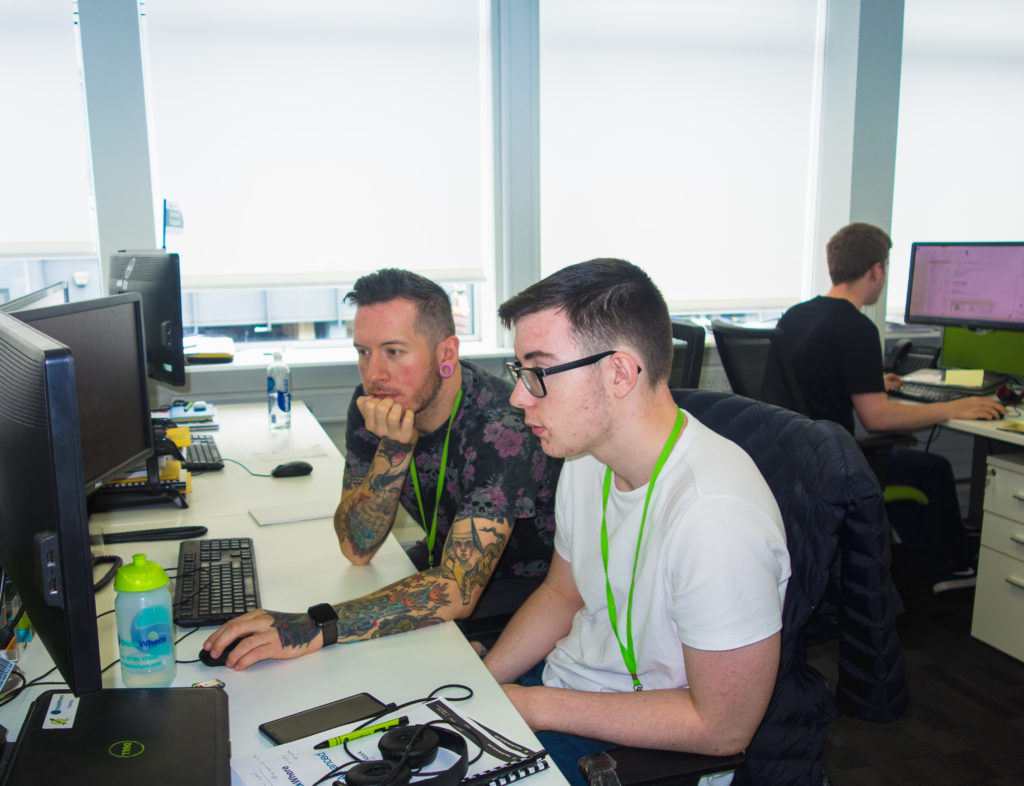 Leading up to my internship, Duncan and I had various meetings outside of the Masterclasses.  I also had a visit to the thinkWhere office very close to the start of my internship.  This introduced me to my new colleagues and get used to the office environment.
My internship allowed me to work on a project (as agreed by Duncan and me) that related to the work thinkWhere does, and that involved my own interests.  We decided it should be something web-based, and came up with the idea to design and create a webpage showing an interactive map of gaming events in the United Kingdom.
GIS and other techy bits…
GIS was completely new to me, but it was very interesting learning something completely new within just a few weeks. thinkWhere uses open source GIS software such as QGIS.  I completed a training course in QGIS early on in my 4 week internship at thinkWhere.  This taught me how to create high quality maps and understand different sources of data. I also learned about leafletJS – another component that would be used for creating my webpage.
About my initial project…
I found the event data for my webpage using Google searches and implemented those using leafletJS. The webpage also had links to the event websites along with a very brief summary about each event. Each event was shown in its geographic location as a marker on the interactive map – when clicked, each marker would tell you the name of the event, where it was located, and the date it was taking place.
The markers were colour-coded:
blue for Scotland;
red for England;
yellow for Wales; and
green for Ireland
The webpage looked like this: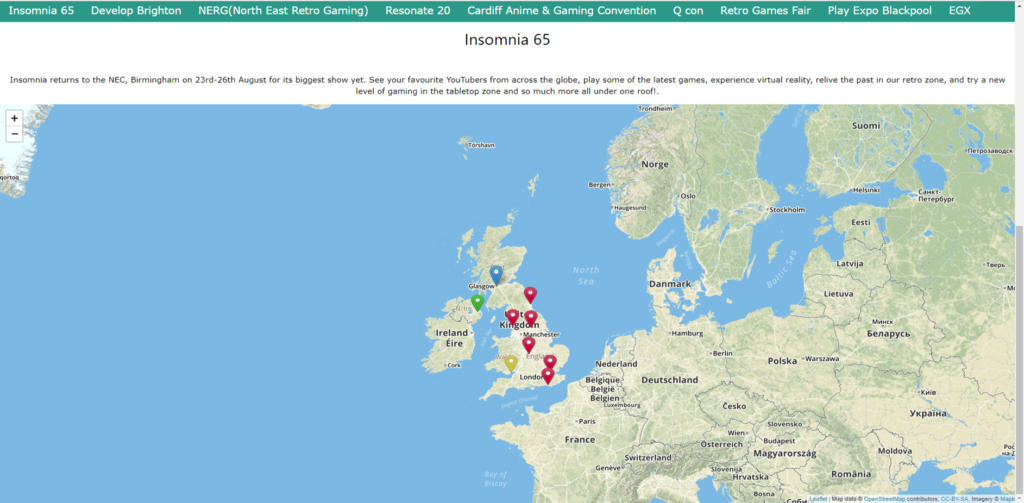 I finished my initial project quite quickly so decided to do another project, this time relating to Career Ready.
About my second project…
Using a similar approach to my first project, I managed to complete my second project during my internship too.  This time, I created an interactive map which told the user which schools were involved with Career Ready and how many pupils in that school were involved in doing Career Ready this year. The Career Ready interactive map displayed the boundaries of Scottish local authorities.  It allowed me to determine which, and how many schools in a region were participating in Career Ready and how many pupils in a school were actually participating. I also created a video which displayed my map and showed which regions had the highest and lowest number of Career Ready schools in them.  You can see the video I made below.
During my time at thinkwhere I attended meetings and we had stand-ups every morning to discuss what everyone was working on that day. I also had one-to-one meetings with the team where they discussed the roles they each had within the team, and spoke about the various services the company provides.  I also learned about the products thinkWhere has developed such as groundMapper, mapTrunk, Location Centre and theMapCloud.  These discussions helped me gain a far greater understanding of what the business does and how the business is run.
At the end of my 4th week there was an internal event called Meet and Eat.  The company orders in pizza and team members give short presentations on company developments relating to products, services and the business in general. During the Meet and Eat, I did a presentation showcasing what I had achieved in the 4 weeks at thinkWhere. It was quite nerve-wracking doing it in front of everyone. However, once I'd finished, I felt happy, and was able to enjoy my pizza watching other people deliver their presentations.
Thanks to Career Ready and the thinkWhere team.  It was a great opportunity, I learned so much and I can't thank them enough.
It was a great 4 weeks!
Grant