Stirling, Scotland, 25 October 2018 – Users of geographic data can now access application ready GIS data services and downloads without investing in expensive hardware, software or specialist staff. Powered by theMapCloud, thinkWhere now offers a new range of additional plug-in data services giving faster and more reliable access to ready-to-consume data.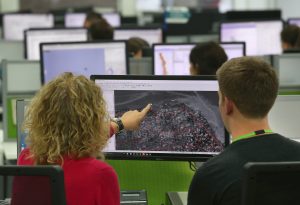 Using the latest cloud technologies, users can access hundreds of environmental, demographic and topographic datasets from publishers such as the Ordnance Survey, Environment Agency and OpenStreetMap. For a limited time only thinkWhere is offering qualifying organisations a thirty-day trial period.
"theMapCloud data services take away the burden of managing maps and data resources, ensuring the latest maps and geographic datasets are readily available, easy to use and regularly updated," commented Alan Moore, Chief Executive, thinkWhere. "Since its launch theMapCloud has powered more than 275 million map requests and we continually review and upgrade our services to take advantage of the latest developments in cloud hosting technology and delivery service solutions. We also work closely with geographic data publishers to ensure the data we provide is of the highest levels of currency, accuracy and usability."
Using thinkWhere's data services to access a single source of common data ensures that data used to inform decision-making and service delivery is up-to-date and consistent across an organisation. Feedback from users of thinkWhere's data services includes, "The reliability and performance of theMapCloud are excellent and we have benefited from a significant reduction in the cost of maintaining our own data services," Scottish Environment Protection Agency.
More information on data services are available via www.maptrunk.com, thinkWhere's online digital map shop.  Datasets are available from publishers such as the Welsh Government's historic environment service CADW, the Department of Energy & Climate Change DECC, the European Environment Agency and Scottish Natural Heritage. The thinkWhere data services are available in ready to consume industry standards including WMS, WMTS and WFS.
mapTrunk is also used for the purchase of digital data extracts – as an express service, data is supplied by email as a digital download in a variety of GIS-ready formats for use in OGC compliant applications.
"In the latest upgrade of our data services offering we have also added additional environmental datasets," continued Moore. "New layers include Soil Maps from the Hutton Institute; Wind Speed data from DECC; National Scenic Areas, Fragile Land and Environmentally Sensitive Areas from Scottish Government; and National Forest Estate Ownership from the Forestry Commission."
Contacts:
Enquiries to Fiona Thomas, Business Development Manager, on +44 (0)1786 476060 or fiona.thomas@thinkwhere.com
Editorial enquiries, contact Robert Peel on tel +44 (0)1666 823306 or robert@market-it.co.uk
www.thinkwhere.com
Notes to Editors:
thinkWhere provides an online platform for storing, sharing and using maps and geographic data. Utilising Open Source Geographic Information System (GIS) technologies, thinkWhere has developed cloud-based software applications and tools, backed by a wide range of Open GIS implementation, consultancy and training services.
Based in the historic city of Stirling, Scotland, with customers across the UK and worldwide, thinkWhere pioneered the development of web-based platforms for collaborative GIS products and services.  The company has a 10 year proven track record of delivering solutions at local, regional and national levels in the UK public and commercial sectors.
For further information visit www.thinkwhere.com