MapAction is a humanitarian mapping charity very close to our hearts at thinkWhere.  Supporting thousands of different national and international aid teams, MapAction helps millions of people whose welfare and very existence have been threatened by devastating events.  These include natural disasters such as the Nepal earthquakes, Typhoon Haiyan in the Philippines, as well as conflict-driven emergencies as experienced in countries such as Africa and Asia.  Within hours of an alert, teams deploy to the scene of an emergency to map the needs of affected communities.
With 2 of our staff being active MapAction volunteers, others in the team support the charity by participating in a range of team challenges to help raise funds.   Previous challenges have included Pedal for Scotland and Total Warrior.
We have a couple of fundraising events coming up in the next few months.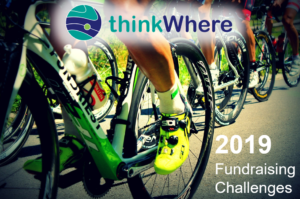 Saturday June 8th 2019 – The Muthill Cycling Sportive
Sunday 13th October 2019 – The Aviemore Half Marathon
Can you help us reach our fundraising target by sponsoring us? If so, please make donations here .
Thank you in advance for any donations you can make – every penny counts.
About MapAction
Since MapAction was established, they have responded to more than 60 humanitarian crises.
MapAction has won several international awards, including an Association for Geographic Information Award for Excellence for their response to the Ebola outbreak in West Africa, as well as four Stevie International Business awards for Company of the Year, Management Team of the Year, Chairman of the Year and Support Team of the Year.