Stirling, Scotland, 29 November 2018 – Angus Council has embraced an online, cloud-based mapping and data service from thinkWhere as a core part of its enterprise Geographical Information System (GIS) architecture. The fully hosted solution now provides access to more than 400 individual map layers for hundreds of staff and members of the public. Called Location Centre, the thinkWhere solution integrates with open source desktop GIS software and databases holding key georeferenced data including the Council Address Gazetteer.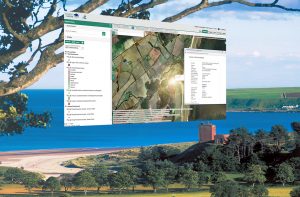 The Geographic Information System (GIS) is used throughout Angus Council, from road asset management, to waste collection services, and business rates to voter registration.  Location Centre manages more than a hundred embeddable maps and bespoke reports, and is accessed by around 300 regular users. Location Centre also powers the mapping element of Angus Council's public facing website, allowing residents and local businesses to access map based information and customised reports.
"thinkWhere's software and cloud data service is a critical component of our spatial information delivery service," commented Ross McDonald, GIS Data Co-ordinator and Geo-Evangelist at Angus Council. "Using Location Centre, we can ensure that users can access up-to-date, accurate and consistent data to make informed decisions on day-to-day service delivery and longer-term resource planning."
As part of the spatially enabled IT infrastructure, Angus Council also uses QGIS, an open source, desktop GIS application. QGIS integrates with Location Centre via a thinkWhere developed plug-in. Using QGIS together with Location Centre's web-based map and GIS functionality, users across the Council can undertake a range of tasks from simple address look-ups to complex analyses such as comparison of data from multiple sources to identify fraud.
"The use of Location Centre, integrated with open source applications and databases, allows us to keep data moving," continued McDonald. "Users can create, edit and share data and, with open access to software code, we have the freedom to develop applications and tools that are tailored to our exact requirements."
thinkWhere's Location Centre is a fully hosted, managed and maintained GIS infrastructure providing a single system for managing and disseminating complex spatial data across and organisation. Functionally rich, Location Centre offers a range of tools for querying, viewing, printing and exporting data across an organisation and for sharing information on public websites.
Contacts
Enquiries to Fiona Thomas, Business Development Manager, on 01786 476060 or fiona.thomas@thinkwhere.com
Editorial enquiries, contact Robert Peel on tel +44 (0)1666 823306 or robert@market-it.co.uk
Notes to Editors:
thinkWhere provides an online platform for storing, sharing and using maps and geographic data. Utilising Open Source Geographic Information System (GIS) technologies, thinkWhere has developed cloud-based software applications and tools, backed by a wide range of Open GIS implementation, consultancy and training services.
Based in the historic city of Stirling, Scotland, with customers across the UK and worldwide, thinkWhere pioneered the development of web-based platforms for collaborative GIS products and services.  The company has a 10 year proven track record of delivering solutions at local, regional and national levels in the UK public and commercial sectors.
For further information visit www.thinkwhere.com