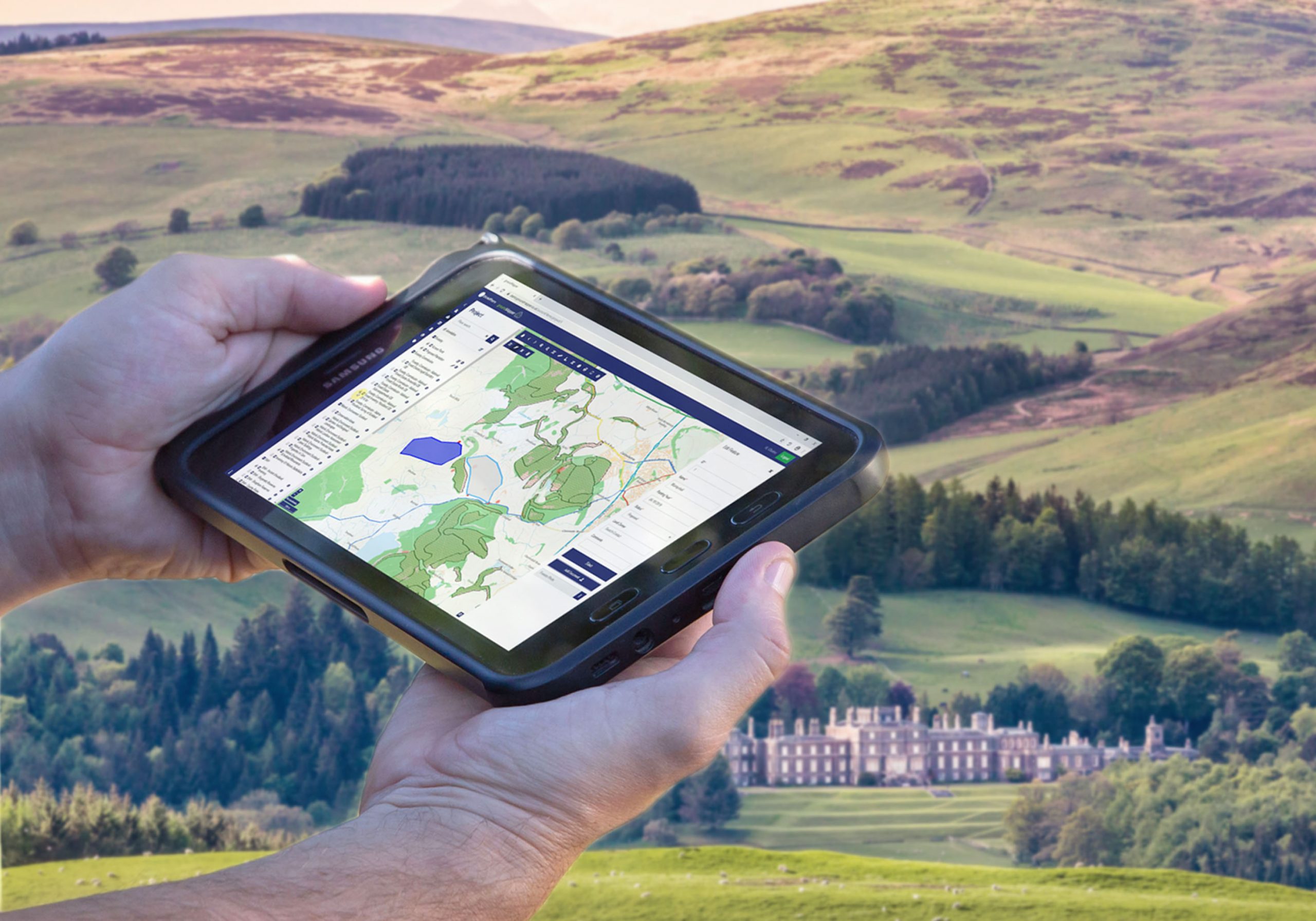 Buccleuch, who manage more than 190,000 acres of rural Britain, has implemented a mobile web mapping system from thinkWhere. Cloud-based groundMapper gives staff operating in the field the ability to search, locate and inform on Buccleuch assets using on-screen maps running on a range of mobile devices. Already extensively used groundMapper is reducing reliance on specialist staff and is empowering frontline workers with access to current, reliable and accurate data to improve the management of Buccleuch's assets.
Buccleuch recognises that a holistic approach to land management is essential. Land use has become increasingly complex with growing demands and expectations both locally and nationally. Development and management of the estates brings a range of social, environmental and economic business challenges as well as opportunities for sustainable development, community engagement, employment and education.
"Buccleuch was already in an excellent position having spent a number of years compiling spatial datasets and training specialist staff in the use of GIS. However not all staff were aware of the data or were up-to-date with software training," commented Christine Brown, GIS Manager at Buccleuch. "We wanted to extend and simplify access so that we could build a more accurate inventory of Buccleuch assets and land features and help frontline staff make better informed decisions."
Buccleuch originally commissioned thinkWhere to carry out an audit of its GIS data and infrastructure and one of the major recommendations was to move to a cloud hosted database and web mapping system. Having considered other web based solutions Buccleuch selected groundMapper as it offered a complete managed solution with scalable licencing giving access to thinkWhere hosted data such as those from the Ordnance Survey, public domain information and Buccleuch's own asset data via a user friendly interface.
"We were impressed with the combination of groundMapper's simplicity yet ample functionality," continued Brown. "We are also confident that the move to cloud-based online mapping will help future proof our already enviable GIS journey and further democratise the use of asset and geospatial data."
Hosted by thinkWhere, groundMapper allows users to manage and share application based maps and associated data with on-the-ground project teams, customers and other key stakeholders. Specifically designed for the management of multiple projects across diverse geographical areas, groundMapper provides a simple, intuitive interface with online editing, collaboration and visualisation combined with easy-to-use administrative controls.
"The team at Buccleuch are showing real leadership in the field of digital estate management," added Alan Moore, Chief Executive Officer at thinkWhere. "We are excited to be involved with their journey to exploit the use of location data more widely across the business and we look forward to building on our relationship and supporting their growth in the use of groundMapper and our managed services for years to come."