Stirling, Scotland, 24 January 2018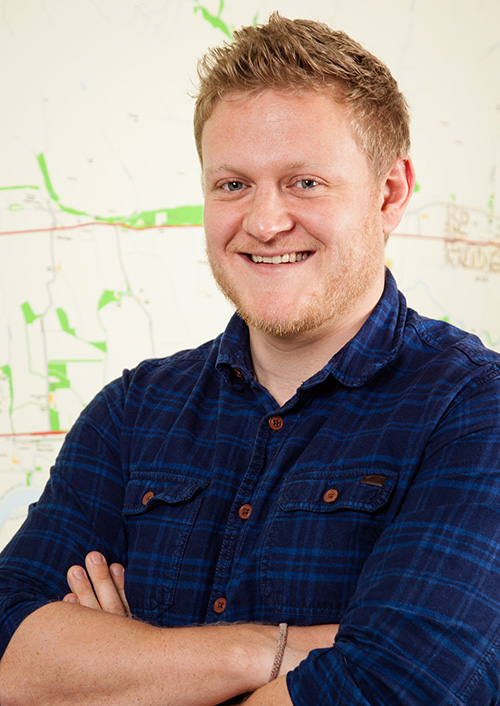 Scottish technology company thinkWhere has appointed David Frankland to the position of Operations Manager. A valued member of the Stirling based company since 2012, Frankland will be responsible for leading the development and delivery of a range of pioneering solutions that allow maps and geographic information to be easily accessed and shared online anywhere in the world. Frankland's promotion comes at important time in thinkWhere's development as the company is looking to increase its UK market share and expand its global operations.
"An important aspect of our recently announced re-organisation and international expansion is the creation of a world class management team," commented Alan Moore, CEO of thinkWhere. "David's promotion to the role of Operations Manager is critical to this team and to the continued development and delivery of solutions around the world for clients such as the British Library, Scottish Government, Balfour Beatty and Humanitarian OpenStreetMap Team."
A first class graduate in Geography and Geology, Frankland also holds a Master's Degree in Geographical Information Systems (GIS) from the University of Edinburgh. Frankland originally joined thinkWhere in 2012 in the position of GIS Developer having previously worked as a Research Assistant for the Scottish Carbon Capture and Storage Group and as a GIS Analyst for Edinburgh based Mapix Technologies, the company behind the Routescene brand of laser scanning solutions.
During his time at thinkWhere Frankland has been influential in the successful delivery of a number of high profile projects including the delivery and implementation of a Disaster Management Information Service in Cambodia, delivery of a bespoke web mapping application for the British Library and project management of the next generation Humanitarian OpenStreetMap Team (HOT) Tasking Manager software.
In his new position Frankland will be instrumental in translating business strategy into the customer value leading the development and delivery of products and services including Software-as-a-Service and Data-as-a-Service (SaaS and DaaS) roadmaps based on thinkWhere's innovative spatial data platform theMapCloud. He will lead a multi-disciplined team utilising modern cloud, Open Source and software engineering technologies and will also oversee the effective provision of technical support, consultancy and training services.
"It is a real honour to be joining the senior management team at such an important time in the company's development," added Frankland. "We have already proven the power and capabilities of theMapCloud with successful deployment around the world and we are keen to build on this success."
[line]
Contacts
Editorial Enquiries – Robert Peel (PR), +44(0)1666 823306, robert@market-it.co.uk
Reader Enquiries – Fiona Thomas, Business Development Manager, +44(0)1786 476060, Fiona.Thomas@thinkwhere.com
[line]
Notes to Editors
thinkWhere provides an online platform for storing, sharing and using maps and geographic data. Utilising Open Source Geographic Information System (GIS) technologies, thinkWhere has developed cloud-based software applications and tools, backed by a wide range of Open GIS implementation, consultancy and training services.
Originally Forth Valley GIS, the company started in 1993 providing GIS services to Central Regional Council before, following local government reorganisation, developing a shared GIS service for three unitary authorities. In 2007 the company began operating as an arms-length commercial operation and rebranded as thinkWhere in 2007.
Based in the historic city of Stirling, Scotland, with customers across the UK and worldwide, thinkWhere pioneered the development of web-based platforms for collaborative GIS products and services. The company has a 10 year proven track record of delivering solutions at local, regional and national levels in the UK public and commercial sectors. For further information visit www.thinkwhere.com