Stirling, Scotland, 23 October 2019 – Land agent and property consultancy Galbraith has adopted thinkWhere's web mapping solution groundMapper as a 'go to' tool for easy access to maps and geographic information. The cloud service gives Galbraith immediate mobile access from any location, by any team, and has simplified and improved collaboration with external stakeholders.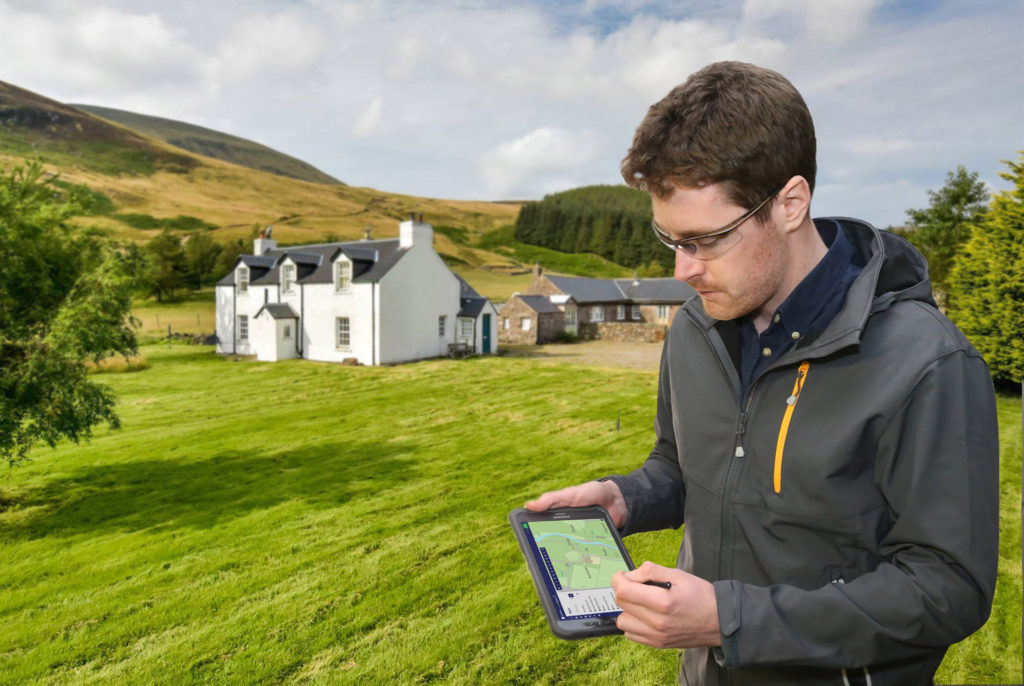 Specialising in Estate Agency Sales and Lettings for Farms and Estates, rural estate management, forestry management and land agency services for the energy and utilities sector, Galbraith worked with thinkWhere to scope the latest version of groundMapper creating an easy-to-use solution for accessing and sharing public domain information, hosted by thinkWhere, as well as operational datasets.
groundMapper 2 has already been deployed by Galbraith with positive feedback from internal teams and external clients.
"We have a diverse operation both in terms of day-to-day activities as well as geographic coverage," commented Daniel Campanile, Associate GIS Manager at Galbraith. "Which meant our requirements for data access, interrogation and collaboration were also diverse. Working with thinkWhere, at the early stages of groundMapper 2 development, allowed us to define a solution that met our complex requirements."
Galbraith uses groundMapper to access a range of geographic data both in the office and out on site. Datasets hosted by thinkWhere and available to Galbraith staff include Ordnance Survey open data as well as free-to-use datasets from hundreds of organisations such as Scottish Natural Heritage, the British Geological Survey and the Environment Agency. Operational datasets, such as sales information, managed assets and indicative land use records can also viewed and interrogated using groundMapper.
"groundMapper gives us easy access both in the office and on site by any team, provides easy to use tools so non-specialist staff can access specialist data and allows collaboration within teams, between teams and with external stakeholders," continued Campanile. "We can easily create and control multiple instances of groundMapper, defined by functionality and data access, making it a one-stop solution for much of our geospatial data requirements."
Early examples of groundMapper in use within Galbraith include staff accessing a sub set of 'sold data' to provide comparable evidence for a valuation. The web mapping tool is also being used by teams of surveyors to access additional intelligence such as estate ownership, land use, soil quality and other site constraints to help understand the impact of these characteristics on projects.
CONTACTS:
Enquiries to Fiona Thomas, Business Development, + 44 (0) 1786 476060, fiona.thomas@thinkwhere.com
Editorial enquiries, Robert Peel, +44 (0)1666 823306, robert@spatiallyaware.co.uk
Notes to Editors:
groundMapper is a Cloud-based, easy-to-use online Geographical Information System (GIS). groundMapper allows users to manage and share application based maps and associated data with on the ground project teams, customers and other stakeholders. Specifically designed for the management of multiple projects across diverse geographical areas groundMapper provides a simple, intuitive interface with online editing, collaboration and visualisation functions and easy-to-use administration controls.
thinkWhere provides an online platform for storing, sharing and using maps and geographic data. Utilising Open Source Geographic Information System (GIS) technologies, thinkWhere has developed cloud-based software applications and tools, backed by a wide range of Open GIS implementation, consultancy and training services.
Based in the historic city of Stirling, Scotland, with customers across the UK and worldwide, thinkWhere pioneered the development of web-based platforms for collaborative GIS products and services.  The company has a 25 year proven track record of delivering solutions at local, regional and national levels in the UK public and commercial sectors.
For further information visit www.thinkwhere.com