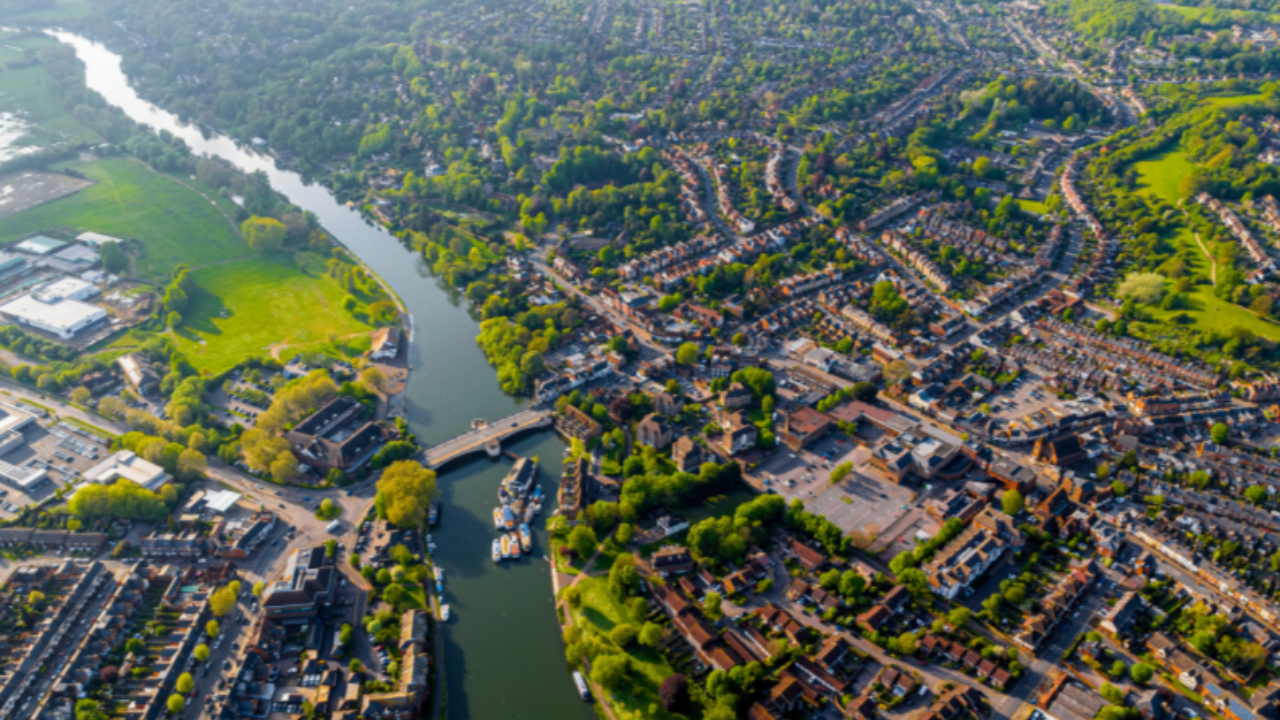 "Every property exists in a place. The geographic context and surrounding area influences what is built where and how that property is used from underlying ground conditions to local amenities and transport infrastructure.
"Digital tools embedded with geospatial capabilities enable organisations to manage their properties more effectively, operate buildings more efficiently and better oversee construction and renovation projects – this supports the creation of quality places where people and organisations can thrive."
Alexandra Notay, Commissioner, Geospatial Commission
The UK property sector is fundamental to our social, environmental and economic wellbeing and will play a key role in achieving our future ambitions relating to net zero, infrastructure development, productivity and growth.
A report from the Geospatial Commission exploring the use of geospatial data in the property sector is really putting a spotlight on the industry, and especially on the essential role that geospatial data and technology services can play in transforming critical processes relating to land use, planning, development, construction, conveyancing and asset management.
Digital transformation in the property sector is well underway and there are good examples of the use of location data, technology and services in activities such as land sourcing, land registration, public engagement and digital twins.
However, as is often the case, realising the full benefits of geospatial technology is fundamentally dependent on a sustainable data ecosystem, with interconnected data requirements varying at different stage of the property lifecycle.
Four cross-cutting data themes are identified in the report:
Property data as an interconnected system
Strategic approach to data access
Provision of authoritative data
Compatible data standards
Within the geospatial industry these themes will resonate across many different market sectors. The many processes surrounding the complete property lifecycle are still underpinned by traditional, manual interactions. Key issues relating to accessing reliable data, storing it, sharing it and presenting it in a concise and consistent fashion are often held up as barriers to systematically improving and streamlining these analogue processes.
Our own spatial data platform is designed to make a wide range of publicly available datasets accessible as online data services, removing traditional data management overheads and providing standardised location data for use in a range of application scenarios.
The report sets out key action areas to help target interventions aimed at improving data accessibility and the use and re-use of data including:
A new data sharing gateway to allow wider access to Valuation Office Agency property data
Promoting Unique Property Reference Numbers to promote interoperability of property related data
Further digitisation of the property conveyancing process
It's exciting to see the Geospatial Commission focusing attention on the property sector. It's an area undergoing significant technological change and one where location data, services and technology play an essential role in this digital transformation.
With the continued pressure on sourcing land for development, the growth in adoption of green technologies, greater efficiency in property management and the opportunities to focus on making quality places to live and work, the need for standardisation in location data and adoption of geospatial technologies to transform key processes in the property lifecycle is greater than ever.
It's tricky to get people to change habits though, which is why we hope that this report will act as a catalyst to drive change across the board.
One point that particularly resonated with us was the following:
…there is a lack of standardised format machine-readable planning data. This means data can be very hard to combine with other data sources or compare across areas.
Enhanced digitisation of planning data would greatly increase the interoperability of planning data with broader location datasets, allowing the wider context to be considered and better evidenced decisions to be made.
DLUHC is working with local authorities to standardise local plans and is also running digital pathfinder projects with local authorities to make planning applications more user friendly and allow more consistent data on the status of applications. The Levelling Up and Regeneration Bill contains powers which would address standardisation of planning data.
At thinkWhere we're keen to endorse the strategy which sets out a clear process and vision for the industry in the years to come.
As long as data is being collected and submitted in different ways we will have inefficient ways of working. Accessing the data solves a huge part of the problem, but the real wins will only come once standardised formats are adopted across the board. This needs more joined-up thinking and a collaborative approach across the industry.
Alan Moore, Head of Geospatial Services, Idox:
"Location data and technology services have the unique power to digitally represent and connect key processes and information relating to property. Throughout the entire property lifecycle, from concept through to planning, development, occupation, tenure and maintenance, geospatial data and services can transform existing processes and improve the user experience.
"Data is the driving force and I'm pleased to see the Commission recognise the need to view this as an interconnected system – after all, people, place and property are intimately connected in the real world."