Aside from the work I do here at thinkWhere I also volunteer for the humanitarian mapping charity, MapAction. This year MapAction are fortunate to be part of the BBC Radio 4 appeal and have our message presented by Alexander Armstrong (Presenter of Pointless, amongst other things) which will air on Christmas Day at 7:54am and 6.56pm and on 29th December at 3:27pm. As part of the drive to raise awareness of MapAction, thinkWhere has posed some questions to me to find out more about what it's like being a MapAction volunteer…

Can you tell us a bit about what MapAction does and how it helps during humanitarian crises?
MapAction is a humanitarian mapping charity that works through skilled volunteers. Its aim is to save lives and minimise suffering by making the response to humanitarian emergencies as efficient and effective as possible through the use of maps and spatial data.
When a disaster strikes, people's lives can be destroyed within a matter of seconds. In a landscape transformed by the disaster, the challenge for responders is to know where to start.
MapAction deploys skilled volunteers to the scene of a disaster within hours of an alert. In the acute phase of a response, our mapped analysis helps coordinate search-and-rescue efforts and the delivery of emergency aid. As the situation on the ground evolves, it helps responders understand the changing needs of survivors.
As a long-term measure we also help to prepare government authorities, responders and communities in vulnerable countries for the impact of disasters before they strike.
How did you get involved in becoming a MapAction volunteer?
My older sister Anne has been a MapAction volunteer for the past 11 years and has deployed to numerous emergencies including Pakistan (2005 earthquake), Indonesia (2006 earthquake), Tajikistan (2006 capacity building), Pakistan (2009 IDP crisis), Haiti (2010 earthquake), Japan (2011 earthquake), Sahel (2012 nutritional crisis), Liberia (2014 Ebola outbreak) and Nigeria (2016 preparedness mission).
Consequently over the last 11 years I'd heard lots about what it meant to be a MapAction volunteer, how much difference MapAction is able to make during an emergency and how rewarding being a volunteer was. MapAction as an organisation is also very well-known and respected within the wider GIS community.
Given I chose to follow a similar GIS career as my sister I was therefore also driven to become a volunteer, so eventually applied during a recruitment drive and was very pleased to be successful and able to join MapAction myself in 2014.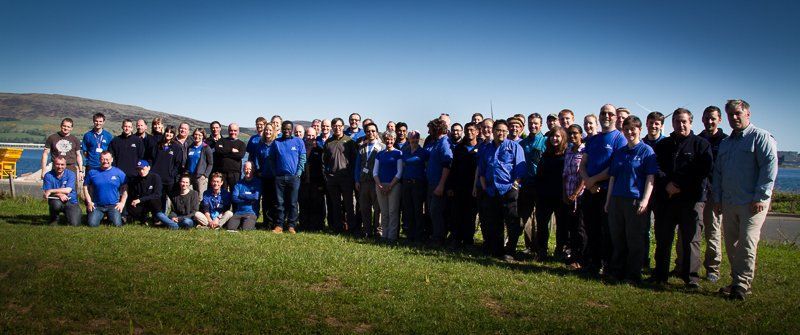 [clear]
The MapAction team at a recent disaster simulation exercise
What kind of training do you get to prepare you for any missions you might get sent on?
MapAction volunteers are expected to participate in at least seven training weekends a year, keeping us up to date with the latest developments in the humanitarian and technical community.
Chilly first #mapaction training of 2016. Great update on S. Sudan settlement data from Andrew too. pic.twitter.com/kfsSlLhRVz

— David Frankland (@dcfrankland) January 17, 2016
Every year MapAction also runs an intensive simulation exercise, focusing on developing the skills we need to deliver our mapping service in the potentially challenging context of an emergency response.
Our training helps us make judgement calls about what sort of map products we should create given the time available and the volume of rapid requests coming in.
Recognising that the world is dealing with more conflict-related emergencies, MapAction has also boosted its security training so we can deploy safely to environments where the situation can be highly unpredictable.
Training involves simulations that enable us to 'learn by doing' in a practical and safe environment. This has included practising first aid, emergency communication procedures and negotiating with combatants. We hope none of this will ever be needed, but MapAction make a point of always preparing the team for all eventualities.
How do you balance your time between volunteering and working at thinkWhere?
MapAction is a big commitment. Aside from deploying to the field for emergencies we also provide remote support to emergencies when required, as well as actively training together as a team throughout the year, so the time commitment is significant.
Luckily I have a very understanding girlfriend (thanks Maddie!) and a very flexible employer in thinkWhere. thinkWhere are great at accommodating my MapAction training and volunteering around my work commitments, such as recently allowing me the time to deploy to Northern Iraq. Without this flexibility my volunteering with MapAction wouldn't be possible.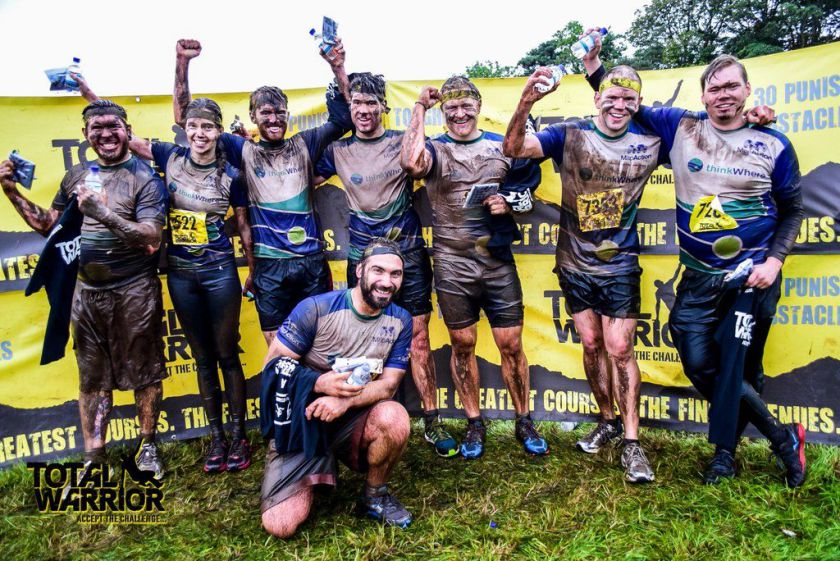 [clear]
Team thinkWhere raising money for MapAction by completing Total Warrior in 2015
Where in the world does your volunteering take you?
MapAction deploy to emergencies all around the world, a list of which can be found on the website here: maps.mapaction.org. MapAction doesn't currently have any teams engaged in active responses, however since September we've responded to a number of high profile emergencies including the conflict related crisis in Nigeria affecting as many as 14 million people and Hurricane Matthew in Haiti, Jamaica and the Bahamas.
In November I also went on my first deployment with a fellow volunteer Naomi to Northern Iraq to map aid needs and distribution as a result of the conflict related crisis affecting the region.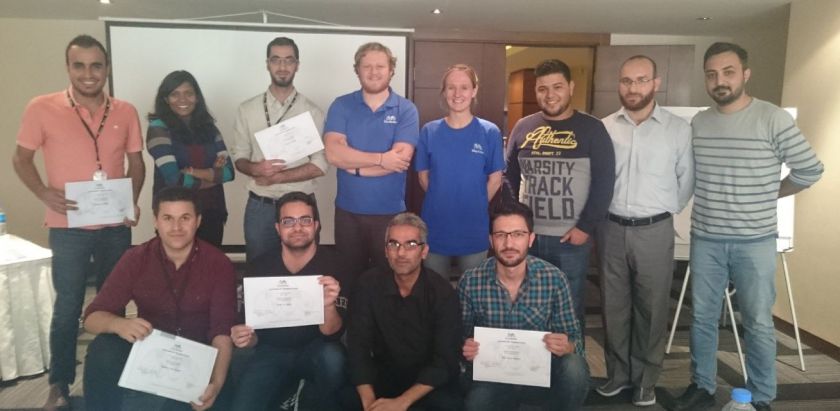 [clear]
QGIS training in Erbil, Iraq
What (from your own personal experience) is the most rewarding thing about volunteering for MapAction?
The most rewarding thing is being able to directly apply the skills I have from my work life into a completely different context i.e. the humanitarian world, in order to make a difference and help those in need. Meeting and working with the rest of the MapAction team who also share the same drive and commitment is also very rewarding.
Have you ever met the Royal Patron of MapAction, Prince Harry?
I haven't personally met Prince Harry, although he did recently attend 'Triplex' in Norway which is a major international humanitarian field exercise organised by the International Humanitarian Partnership (IHP), where MapAction volunteers were participating. Prince Harry has an active interest and great knowledge of our work having been MapAction's Royal Patron for the last 10 years since 2007. Maybe I'll meet him one day!
How can others get involved with MapAction?
MapAction will be recruiting a new intake of volunteers in the New Year, so anyone with the right technical skills and an interest in joining our close-knit team should keep an eye on MapAction's website and social media channels for more information about the skills and commitment required.
It's certainly not for everyone and requires a flexible employer, like thinkWhere, to be willing to release you at short notice. But the benefits you gain in terms of honing your professional skills, making a difference and meeting like-minded people make it incredibly rewarding.
How can people help MapAction without becoming a volunteer?
The single easiest thing people can do is donate. MapAction doesn't receive funding from large public appeals, so we rely on the generosity of our supporters. Your donation means we can continue to be responsive, agile and ready for action at any time.

MapAction's approach has a powerful multiplier effect. Every pound you donate will influence the allocation of many thousands, if not millions, of pounds of humanitarian aid. And that means many more lives potentially saved.
MapAction is often referred to as the "best-kept secret" of the humanitarian world. The video featuring Prince Harry on the MapAction website aims to raise MapAction's profile, so more people will get behind this unique organisation and help get more aid to more people.
How can we find out more?
Visit mapaction.org and watch the Prince Harry video which brings to life the pivotal role that MapAction plays in coordinating humanitarian aid.
The MapAction BBC Radio 4 appeal being presented by TV personality Alexander Armstrong goes out on Christmas Day at 7:54am and 6.56pm.
You can find out more at mapaction.org. You can also follow MapAction's work and missions on Twitter @MapAction and @MapAction_maps.