Stirling, Scotland, 30 April 2019 – thinkWhere has been awarded a contract to transform the use of geographic data and software at Scotland's Rural College (SRUC). Working alongside SRUC's commercial division, SAC Consulting, thinkWhere will implement an enterprise wide, online Geographic Information System (GIS). thinkWhere will also introduce desktop based open source GIS software and a mobile application for synchronised field mapping and data capture. The integrated, end-to-end solution from thinkWhere is designed to address the needs of a variety of users and will allow SAC Consulting to offer new services to clients in the future.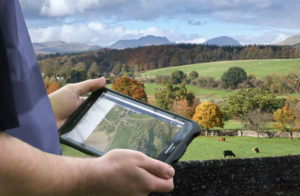 "Prior to the award of this contract we supported three different suppliers of GIS solutions available via a thin client server environment and the desktop," commented Adèle Baron, Landscape Architect and project lead at SAC Consulting. "This created disparate data storage, poor file standards and issues with data reusability and efficiency. There was also a lack of flexibility with regards to publishing data and we had no solution for mobile data capture or in-field queries."
A specialist in open source GIS technologies including web mapping and field applications, thinkWhere will build a customised solution for SRUC based around its leading web mapping solution groundMapper. An online Software-as-a-Service (SaaS) approach, groundMapper will provide access to master datasets such as Ordnance Survey mapping and aerial photography as well as SAC Consulting business datasets. groundMapper will also give SAC Consulting control over user roles and permissions and will provide full data auditability.
In addition to groundMapper thinkWhere will also work with SAC Consulting to deploy the leading open-source desktop mapping software QGIS, to address the needs of 'desktop professional' users, and mobile data application QField.  thinkWhere will also provide a range of data migration services as well as acceptance testing and ongoing training and support.
"thinkWhere provided a comprehensive tender response, were considered to be value for money and presented a robust and thorough GIS solution to meet our needs," continued Baron. "During every stage of the tender process thinkWhere presented itself as both professional and friendly."
Alan Moore, Chief Executive of thinkWhere added, "We are looking forward to working with SRUC to develop a solution that is specifically targeted to meet the needs of users with a range of experiences and accessibility requirements. We are confident the integration of groundMapper, QGIS and QField will exceed SAC Consulting's current requirements and will support them as they move forward providing services to the Scottish agriculture and rural sectors."
Contacts:
Enquiries to Fiona Thomas, Business Development, on + 44 (0) 1786 476060 or fiona.thomas@thinkwhere.com
Editorial enquiries, contact Robert Peel on tel +44 (0)1666 823306 or robert@market-it.co.uk
Notes to Editors:
thinkWhere provides an online platform for storing, sharing and using maps and geographic data. Utilising Open Source Geographic Information System (GIS) technologies, thinkWhere has developed cloud-based software applications and tools, backed by a wide range of Open GIS implementation, consultancy and training services.
Based in the historic city of Stirling, Scotland, with customers across the UK and worldwide, thinkWhere pioneered the development of web-based platforms for collaborative GIS products and services.  The company has a 25 year proven track record of delivering solutions at local, regional and national levels in the UK public and commercial sectors.
For further information visit https://thinkwhere.com/
SAC Consulting is SRUC's Commercial subsidiary which provides a range of consultancy services to more than 12,000 customers in Scotland, United Kingdom and worldwide. Their team of more than 375 consultants, technicians and support staff are located in 27 Offices throughout Scotland and the North of England. SAC Consulting is proud to deliver independent, quality and accessible services to famers, Scottish Government, local authorities, rural business and beyond.
For further information visit https://www.sruc.ac.uk/info/20005/sac_consulting
 The creation of Scotland's Rural College (SRUC) took place in 2012 by merging SAC (the Scottish Agricultural College) with three respected partners (Barony, Elmwood and Oatridge Colleges).
SRUC exists to deliver comprehensive skills, education and business support for Scotland's land-based industries, founded on world class and sector-leading research, education and consultancy. The integration of these three complementary 'knowledge exchange' services is of significant value to all with an interest in land-based activities
For further information visit https://www.sruc.ac.uk/