Stirling, Scotland, 09 January 2020 – thinkWhere, a specialist in open source and cloud geographic information technologies, has released its 2020 programme of professional training courses and workshops. Accredited by the UK's Association for Geographic Information, all courses are developed in-house and delivered by thinkWhere's team of highly experienced GIS consultants.
Courses on offer include beginner, intermediate and advanced courses in QGIS – the open source, cross platform, desktop GIS; and courses in PostGIS – the software that adds support for geographic objects to the PostGresSQL object relational database. Recently launched, thinkWhere also hosts a two day 'Introduction to Drone Imaging' which includes both the theory and practicalities of operating a drone for mapping purposes. This course is run and delivered by Arc Aerial Imaging, a national leader in mapping training using drones.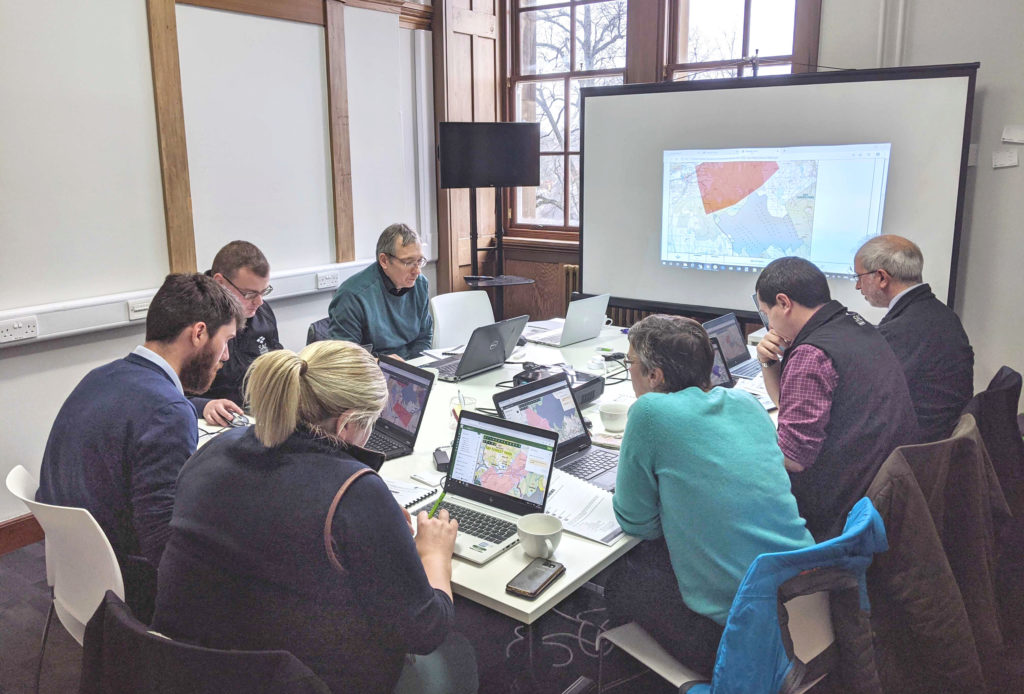 Scheduled training courses are available throughout the year at various locations across the country and bespoke courses can be designed, and developed to meet the specific requirements of a business or organisation. Delivery of courses can be on, or offsite. Documented course materials are provided and all thinkWhere courses include 30 days free post training support.
"Over the years we have trained literally thousands of students. These range from students who are new to the world of GIS, right up to senior management," commented Alan Moore, CEO of thinkWhere. "We are even gaining a reputation as the people who train the trainers by working with world leading universities, supporting them as they introduce open source GIS to the curriculum."
"With the 2020 thinkWhere training programme, we hope to build on our success to date and continue to support both individuals and organisations as they become more familiar with open source GIS technology," he concluded.
During 2019, thinkWhere delivered around 40 individual courses supporting hundreds of students at different stages of their GIS learning journey. Working with organisations such as the National Health Service, SRUC (Scotland's Rural College), Historic Environment Scotland and many local authorities, feedback on the thinkWhere training has been extremely positive. 'well explained and any problems or issues made clear', 'excellent materials and trainer' and 'good pace, plenty of time to ask questions and a very helpful and knowledgeable trainer'.
In addition to offering a range of training services, thinkWhere is already delivering and supporting innovative projects using cloud-based, open source geospatial technologies working alongside organisations such as The British Library, Falkirk Council, South Downs National Park Authority, Ofgem and Digital Scotland.
Contacts:
Enquiries to Fiona Thomas, Business Development, on + 44 (0) 1786 476060 or fiona.thomas@thinkwhere.com Editorial enquiries, contact Robert Peel on tel +44 (0)1666 823306 or robert@spatiallyaware.co.uk https://thinkwhere.com/
Notes to Editors:
thinkWhere provides an online platform for storing, sharing and using maps and geographic data. Utilising Open Source Geographic Information System (GIS) technologies, thinkWhere has developed
cloud-based software applications and tools, backed by a wide range of Open GIS implementation, consultancy and training services.
Based in the historic city of Stirling, Scotland, with customers across the UK and worldwide, thinkWhere pioneered the development of web-based platforms for collaborative GIS products and services. The company has a 25 year proven track record of delivering solutions at local, regional and national levels in the UK public and commercial sectors.
For further information visit www.thinkwhere.com