Stirling, Scotland, 13 September 2018 – thinkWhere has just launched a new programme of Geographic Information System (GIS) and data management training courses to celebrate the start of the new academic year.  Scotland's specialist in open source and cloud-based GIS solutions, has updated its training portfolio with brand new QGIS 3 courses and a two day introduction to drone aerial imaging for mapping, surveying and photogrammetry.  Standard scheduled courses will be delivered at locations in Manchester and Edinburgh as well as the company's headquarters in Stirling.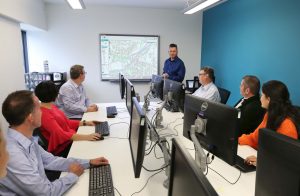 "We are really excited to be adding new and improved content to our already popular training programme" commented Alan Moore, Chief Executive, thinkWhere. "We are also pleased to be expanding into new geographic territories with a view to making our course locations more convenient to our customers. As our training service is fully mobile, in addition to scheduled courses, we can also deliver our courses directly to customers at their premises, on dates more convenient to them. Customers can still choose from our standard training portfolio, or request a bespoke training course to be developed and delivered."
Primarily focused on open source GIS software, the thinkWhere training courses include introductory and advanced options for both QGIS 3 (the open-source, cross-platform, desktop GIS), and PostGIS (the open-source software program that adds support for geographic objects to the PostgreSQL object-relational database). Courses are delivered by its team of experienced and qualified consultants and all thinkWhere courses are accredited by the Institute of Leadership and Management (ILM).  All thinkWhere courses are also accredited by the Association of Geographic Information (AGI).  Trainees benefit from 30 days free post-training support and as well as points for Continuing Professional Development (CPD).
thinkWhere has also recently partnered with ARC Aerial Imaging to deliver a 2-day course to teach drone-operating businesses and organisations with Permission for Commercial Operations (PfCO). Topics will include the theory and fundamentals of aerial imaging with drones and through classroom and practical-based training delegates will work towards the accurate collation of drone data.
Feedback from previous trainees includes "This is the best training I have taken at any point in my academic career" from the University of the Highlands and Islands.  "The course has been absolutely fantastic for us. It's been great to go straight into the bones of the software and how it works without all the padding you get with the usual IT courses. The trainer had a wealth of knowledge and was very engaging and friendly" Vale of Glamorgan Council.
Contacts
Enquiries to Fiona Thomas, Business Development Manager, on 01786 476060 or fiona.thomas@thinkwhere.com
Editorial enquiries, contact Robert Peel on tel +44 (0)1666 823306
Colour separation requests to robert@market-it.co.uk
Notes to Editors:
thinkWhere provides an online platform for storing, sharing and using maps and geographic data. Utilising Open Source Geographic Information System (GIS) technologies, thinkWhere has developed cloud-based software applications and tools, backed by a wide range of Open GIS implementation, consultancy and training services.
Based in the historic city of Stirling, Scotland, with customers across the UK and worldwide, thinkWhere pioneered the development of web-based platforms for collaborative GIS products and services.  The company has a 10 year proven track record of delivering solutions at local, regional and national levels in the UK public and commercial sectors.
For further information visit www.thinkwhere.com