Stirling, Scotland, 13 November 2018 – An online mapping app, commissioned by Ofgem (the Office of Gas and Electricity Markets) and created by Scottish technology company thinkWhere, is helping householders across Britain cut their energy usage with home improvement measures through the government's Energy Company Obligation scheme (ECO). With searches by postcode or more advanced map look-ups, the tool is hosted by thinkWhere and is made publicly available for use by energy companies, installers as well as consumers. The tool can be accessed at https://eco.locationcentre.co.uk/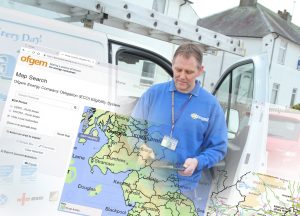 Ofgem initially developed the tool with thinkWhere in 2014 to assist in the verification of energy efficiency measures installed under the Carbon Saving Community Obligation (CSCO) in the first ECO scheme ECO1. Newly updated, the look-up tool now quickly identifies if properties may be eligible for support under the rural element of the Home Heating Cost Reduction Obligation (HHCRO) part of the ECO3 scheme.
The ECO tool postcode checker is an easy to use online tool that determines if an individual property may be eligible for support. Combining publicly available datasets with advanced web mapping tools, users can simply enter a postcode to see if the property falls within an eligible HHCRO Rural area. Energy companies, installers and other invested organisations can also undertake advanced searches using additional filters such as local authority or census output areas. The advanced Validation tool is designed for use by Ofgem as the ECO administrator, energy suppliers and those within the ECO supply chain wishing to validate ECO-specific data.
In addition to developing the original tool with Ofgem and updating it as new policies are introduced under the ECO scheme, thinkWhere also hosts the solution and provides on-going support and data maintenance.
The Energy Company Obligation (ECO) is a government energy efficiency scheme for Great Britain, administered by Ofgem. Under ECO large energy providers are obligated to fund the installation of energy efficiency measures in consumer households. Each supplier has a target, based on its market share, and will work with installers to introduce energy efficiency measures such as insulation or heating measures. Households may qualify for support under the Home Heating Cost Reduction Obligation (HHCRO), targeted at low income, vulnerable and fuel poor households.
Contacts:
Enquiries to Fiona Thomas, Business Development Manager, on +44 (0)1786 476 060 or fiona.thomas@thinkwhere.com
Editorial enquiries, contact Robert Peel on tel +44 (0)1666 823 306 or robert@market-it.co.uk
Notes to Editors:
thinkWhere provides an online platform for storing, sharing and using maps and geographic data. Utilising Open Source Geographic Information System (GIS) technologies, thinkWhere has developed cloud-based software applications and tools, backed by a wide range of Open GIS implementation, consultancy and training services.
Based in the historic city of Stirling, Scotland, with customers across the UK and worldwide, thinkWhere pioneered the development of web-based platforms for collaborative GIS products and services.  The company has a 10 year proven track record of delivering solutions at local, regional and national levels in the UK public and commercial sectors.
For further information visit www.thinkwhere.com