Stirling, Scotland, 27 February 2018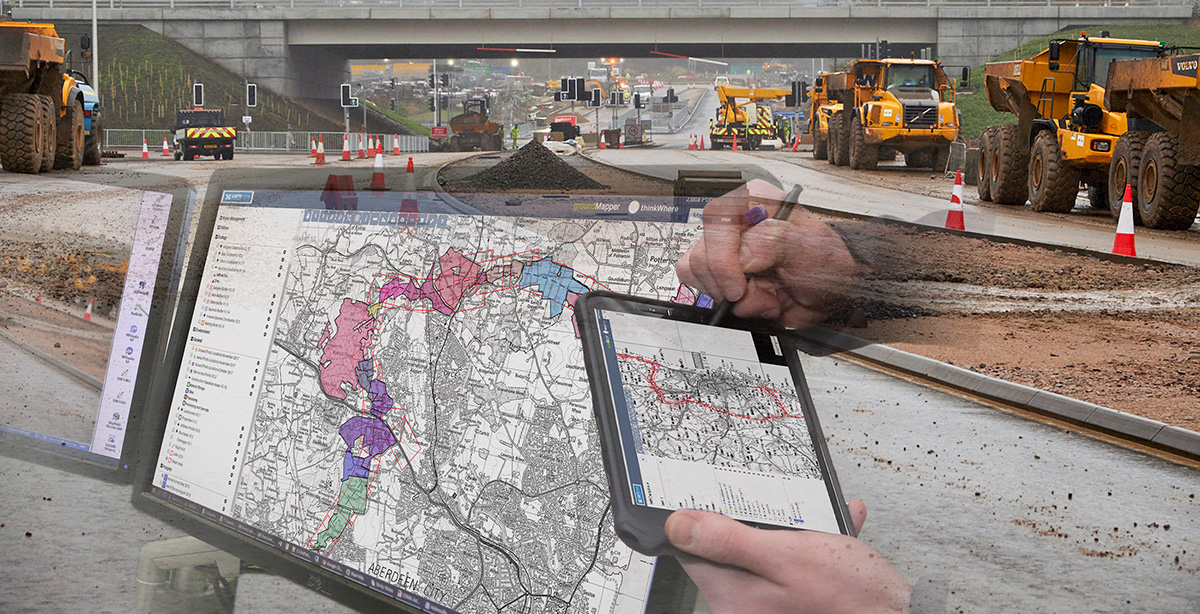 [clear] [gap size="20px"]
Working alongside AWPR Construction Joint Venture (the CJV), technology company thinkWhere is helping to improve collaboration and communication on Scotland's largest road infrastructure project currently under construction. Providing online access to multiple layers of live project maps and geographical data, thinkWhere's groundMapper software is an easy to use tool for a diverse and dispersed workforce. Using the web-based viewer, construction workers, managers and stakeholders on the Aberdeen Western Peripheral Route/Balmedie-Tipperty (AWPR/B-T) project, can instantly access up-to-date constraint maps saving valuable time and money.
"The project is being built across a vast area and, given the vast array of datasets available, we needed a solution that would allow us to effectively access, share and communicate geographically referenced information in real time," commented Angela Gardner, Environmental Manager for the CJV.
Developed by thinkWhere, groundMapper is an online Geographical Information System (GIS) viewer that brings together location based data. Described by the CJV's GIS specialist, Annie Meyer, as like managing the project as "Google Maps for the AWPR/B-T", groundMapper allows users to search for and view multiple datasets. Hosted on a dedicated website, data accessible via groundMapper includes, for example, aerial photographs, private water supplies, ecological features, blasting areas and site office locations, all overlaid on the basic route layout. Users can search the online datasets by postcode, drawing sheet reference, chainage or structure and then quickly get an overview of all features within the vicinity.
"Using thinkWhere's groundMapper tool we can instantly access the most up to date constraint data and we have dramatically reduced the need to produce costly and time consuming paper maps, and the associated paper waste," continued Gardner. "Additional functionality such as the bookmarking tool, annotation and map management functions, combined with its easy online accessibility and integrated base maps, has made groundMapper one of the key management tools for this project; useful from a site level right up to the board room."
The AWPR/B-T project, which is being funded by Transport Scotland, Aberdeen City Council and Aberdeenshire Council, will see the construction of 58 kilometres of new dual carriageway around the city of Aberdeen. When complete, the AWPR/B-T will help to reduce congestion, cut journey times, improve safety and lower pollution in Aberdeen City Centre. Over the next three decades, the AWPR/B-T is expected to bring in an additional £6 billion to the north-east economy and create around 14,000 new jobs.
Aberdeen Roads Limited was awarded the contract to design, build, finance and operate the project in December 2014 and appointed the CJV as New Works Contractor.
[gap size="20px"] [line]
Contacts
Editorial Enquiries – Robert Peel (PR), +44(0)1666 823306, robert@market-it.co.uk
Reader Enquiries – Fiona Thomas, Business Development Manager, +44(0)1786 476060, Fiona.Thomas@thinkwhere.com
[line]
Notes to Editors
thinkWhere provides an online platform for storing, sharing and using maps and geographic data. Utilising Open Source Geographic Information System (GIS) technologies, thinkWhere has developed cloud-based software applications and tools, backed by a wide range of Open GIS implementation, consultancy and training services.
Originally Forth Valley GIS, the company started in 1993 providing GIS services to Central Regional Council before, following local government reorganisation, developing a shared GIS service for three unitary authorities. In 2007 the company began operating as an arms-length commercial operation and rebranded as thinkWhere in 2007.
Based in the historic city of Stirling, Scotland, with customers across the UK and worldwide, thinkWhere pioneered the development of web-based platforms for collaborative GIS products and services. The company has a 10 year proven track record of delivering solutions at local, regional and national levels in the UK public and commercial sectors. For further information visit www.thinkwhere.com