Stirling, Scotland, 14 November 2017
Scottish technology company, thinkWhere, is playing a vital role in enabling the delivery of emergency response and aid to areas hit by natural and humanitarian crises. Working with HOT – the Humanitarian OpenStreetMap Team, thinkWhere has developed an advanced cloud-based mapping management system. Coordinating the work of tens of thousands of people around the world, the OSM (OpenStreetMap) Tasking Manager will improve the efficiency of map production, giving first responders and aid agencies faster access to up to date and accurate maps.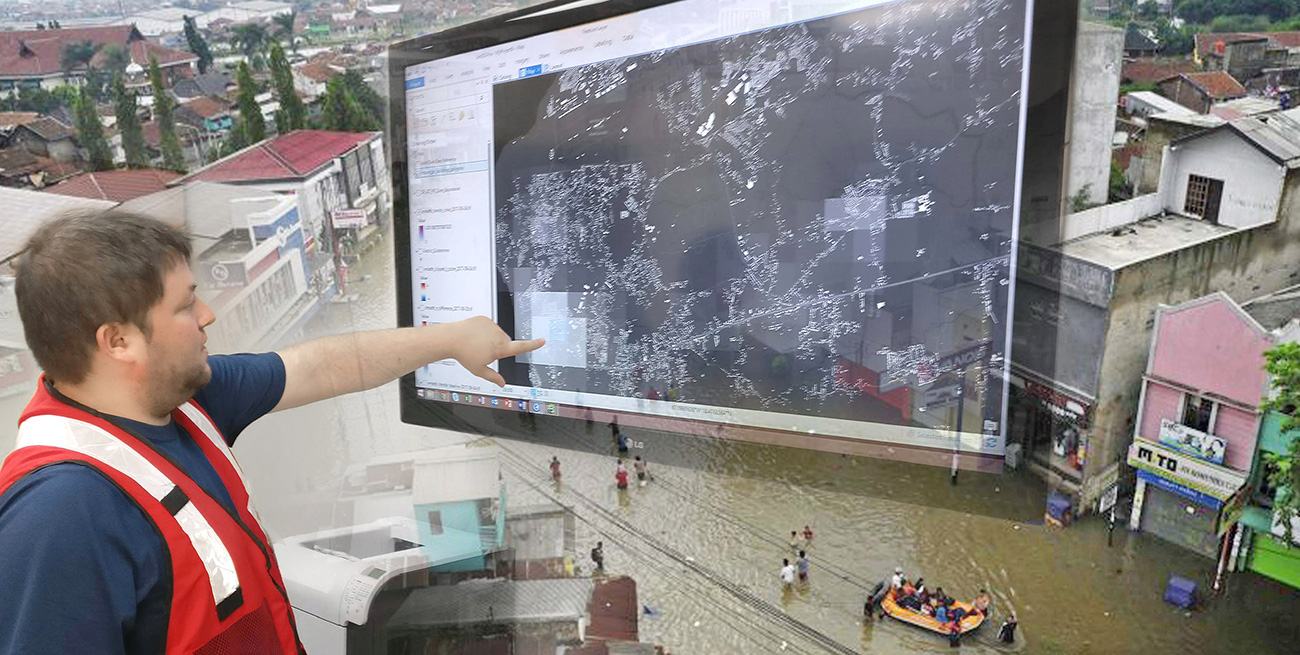 One of the world's most technically effective humanitarian groups, US-based HOT specialises in collaborative mapping for disaster preparation, response and recovery. HOT acts as the interface between the OpenStreetMap community, a collective of volunteers that use aerial photography, satellite imagery and low tech field devices, such as GPS, to map features and infrastructure as well as people and events, and relief organisations.
HOT works alongside organisations such as the Red Cross, Médecins Sans Frontières and the World Bank and, as well as post disaster support, HOT is working to improve risk models and grow the OpenStreetMap community in countries such as Tanzania, Uganda, Liberia, Indonesia and Turkey.
"Coordinating the activities and contributions of more than 60,000 'digital humanitarians' around the world is a complex task," commented Tyler Radford, Executive Director of HOT. "The latest technical developments by thinkWhere will dramatically improve our capability and help speed the delivery of aid to disaster areas. The OSM Tasking Manager enhances mapper engagement with better communications and feedback, and easier validation of contributed data. It will also give us better scalability with improved project creation and management, and easier third party integration."
"Up to date and accurate information is critical when it comes to humanitarian crises, and while commercial mapping solutions are available, they often focus on services and facilities rather than essential infrastructure and ground features," added Alan Moore, Chief Executive of thinkWhere. "By working with HOT to develop the OSM Tasking Manager, we can help ensure the people on the ground have the information they need when they need it."
Radford concluded, "Finally, we are grateful for the ongoing support from the USAID GeoCenter and the Australian Government – via the Indonesia Disaster Management Innovation program – both long term supporters of HOT in facilitating the OSM Tasking Manager project."
The relationship with HOT arose as a result of thinkWhere's association with its charity partner MapAction, an organisation that gathers crucial data at the scene of emergencies and natural disasters and conveys it visually to first responders and relief organisations.
[line]
Contacts
Editorial Enquiries – Robert Peel (PR), +44(0)1666 823306, robert@market-it.co.uk
Reader Enquiries – Fiona Thomas, Business Development Manager, +44(0)1786 476060, Fiona.Thomas@thinkwhere.com
[line]
Notes to Editors
thinkWhere provides an online platform for storing, sharing and using maps and geographic data. Utilising Open Source Geographic Information System (GIS) technologies, thinkWhere has developed cloud-based software applications and tools, backed by a wide range of Open GIS implementation, consultancy and training services.
Originally Forth Valley GIS, the company started in 1993 providing GIS services to Central Regional Council before, following local government reorganisation, developing a shared GIS service for three unitary authorities. In 2007 the company began operating as an arms-length commercial operation and rebranded as thinkWhere in 2007.
Based in the historic city of Stirling, Scotland, with customers across the UK and worldwide, thinkWhere pioneered the development of web-based platforms for collaborative GIS products and services. The company has a 10 year proven track record of delivering solutions at local, regional and national levels in the UK public and commercial sectors. For further information visit www.thinkwhere.com
OpenStreetMap is a collaborative project to create a free, editable map of the world built by a community of mappers that contribute and maintain data about roads, trails, cafes, railway stations etc. all over the world. OpenStreetMap emphasises local knowledge with contributors using aerial imagery, GPS devices, and low-tech field maps to verify that OSM is accurate and up to date. The OpenStreetMap community is diverse, passionate, and growing every day with contributors describing themselves as enthusiast mappers, GIS professionals, engineers and humanitarians.
The Humanitarian OpenStreetMap Team, bridges the gap between the OpenStreetMap community and humanitarian organisations.
When a major disaster strikes anywhere in the world, HOT rallies a huge network of volunteers to create – online – the maps that enable responders to reach those in need. HOT also aims to put the world's vulnerable people and places on the map, and volunteers have collectively made millions of edits to OpenStreetMap and put millions of people on the map. HOT works with community mapping projects, helping them create their own maps for socio-economic development and disaster preparedness, and trains governments, NGOs, students and volunteers in open data and Open Source mapping and GIS tools. For further information visit www.openstreetmap.org or www.hotosm.org
MapAction is a non-governmental organisation that specialises in providing mapping for humanitarian emergencies. A registered UK charity with Prince Harry as its Royal Patron, MapAction was founded as Aid for Aid in 1999, changing its name and becoming operational in 2003.
MapAction has the capacity to deploy a fully trained and equipped humanitarian mapping and information management team anywhere in the world within a matter of hours. MapAction volunteers quickly gather crucial data at the disaster scene, conveying it visually in the form of maps. For further information visit mapaction.org