Stirling, Scotland, 09 May 2019 – Management and staff at Scottish technology company thinkWhere are taking part in a number of gruelling challenges to raise funds for the humanitarian mapping charity MapAction.
On June 8, teams from the Stirling-based geospatial expert will complete a challenging 70 mile cycle ride around the Muthill area in Perthshire, close to the Scottish market town of Crieff and the Gleneagles golf resort. A second thinkWhere team will take part in the Aviemore Half Marathon set within the UK's largest National Park, the Cairngorms, later in the year.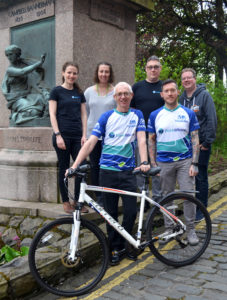 In addition to fundraising for MapAction, thinkWhere will also be supporting two local charities. The Speyside Trust which provides outdoor holiday experiences for people who require additional care and support and the Muthill Sportive a community organisation supporting cycling in the area.
Alan Moore, Chief Executive of thinkWhere commented, "MapAction as a charity is not only close to our business activities, it is also close to our hearts and we have been active supporters for a number of years. We have previously completed other fundraising challenges, including Pedal for Scotland and Total Warrior events, and we even have members of thinkWhere team volunteering for MapAction with deployments in Iraq and the Caribbean."
MapAction is a non-governmental organisation that specialises in providing mapping for humanitarian emergencies. These emergencies often strike without warning, destroying lives and livelihoods within a matter of seconds. In the immediate aftermath, the challenge for those responding is to know where to start. MapAction quickly gathers disaster scene data, conveying it visually in the form of maps. By creating this 'shared operational picture' for aid agencies, governments and local partners, MapAction can help them make informed decisions and deliver aid and emergency supplies to the right place, quickly.
Ian Davis, Fundraising & Marketing Director at MapAction said "The team at MapAction are always very grateful for the continuous support we receive from the team at thinkWhere. Mapaction sees itself as flying the flag for the GIS industry in humanitarian emergencies, applying the huge benefits of geospatial analysis to complex and fast moving crises. So when we receive this kind of support from our own sector it means a great deal to us all, and enables MapAction to do that bit extra."
"Whilst MapAction is our nominated charity for 2019 it is also important to us as an active member of the local community with an interest in outdoor activities and pursuits that we support charities closer to home," concluded Moore.
To sponsor the team, please click here
Contacts:
Enquiries to Fiona Thomas, Business Development on + 44 (0)1786 476060 or fiona.thomas@thinkwhere.com
Editorial enquiries, contact Robert Peel on tel +44 (0)1666 823306 or robert@market-it.co.uk
Notes to Editors:
thinkWhere provides an online platform for storing, sharing and using maps and geographic data. Utilising Open Source Geographic Information System (GIS) technologies, thinkWhere has developed cloud-based software applications and tools, backed by a wide range of Open GIS implementation, consultancy and training services.
Based in the historic city of Stirling, Scotland, with customers across the UK and worldwide, thinkWhere pioneered the development of web-based platforms for collaborative GIS products and services.  The company has a 25 year proven track record of delivering solutions at local, regional and national levels in the UK public and commercial sectors.
For further information visit www.thinkwhere.com